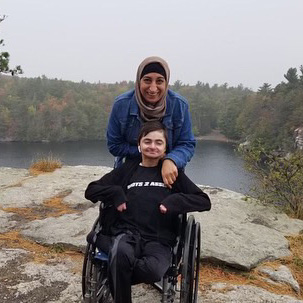 In Loving Memory of Abdullah Arekat (1995-2023)
Abdullah Arekat was born on September 18th, 1995 with Dystrophic Epidermolysis Bullosa. Sadly, he was taken from us too soon this past February at the age of 27. Despite the deep pain that he suffered every day, Abdullah was so full of life and loved going out and spending time with his friends and family.
Abdullah was a fighter, not just in love for WWE or in his favorite video game, Call of Duty, but in his daily life. He was a force of unbounding strength and ever-present light, his humor and sarcasm constantly brightening the lives of those around him, including his mom and 5 older brothers and sisters that loved him so much and took such good care of him. Abdullah's father passed away when he was 9 years old. They are buried next to each other and Abdullah is reunited with his dad now.
He was so full of love for his family and friends, and we will always remember his huge heart.
- The Arekat Family