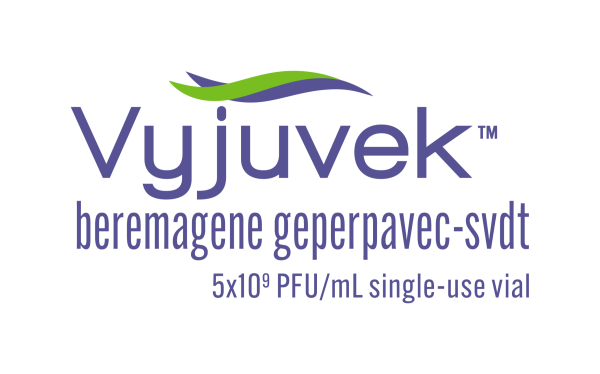 VYJUVEK™ (beremagene geperpavec-svdt) (VYEJOO-VEK), developed by Krystal Biotech, is the first FDA-approved treatment to address the genetic cause of Dystrophic Epidermolysis Bullosa (DEB). It is a topical gel that delivers new COL7A1 genes directly to DEB skin wounds to promote wound healing. 
EB Type

Dystrophic Epidermolysis Bullosa

Approved Age

6 months of age or older

Dose

Dependent on age:

| Age Range | Maximum Weekly Does (plaque forming united; PFU) | Maximum Weekly Volume (milliliter; mL)* |
| --- | --- | --- |
| 6 months to <3 years old | 1.6 x 109 | 0.8 |
| ≥3 years old | 3.2 x 109 | 1.6 |

 

Preparation

Prepare VYJUVEK™ gel at the pharmacy by mixing VYJUVEK™ biological suspension into the excipient gel for immediate use within 8 hours.

Administration

For topical application only.

Only a healthcare professional should apply VYJUVEK™ at a healthcare professional setting (I.e. clinic) or home setting, depending on your doctor's instructions, your insurance plan coverage, and your preference.

Apply VYJUVEK gel to the selected wound(s) in droplets spaced evenly within the wound, approximately 1cm-by-1cm apart.

How Often

Applied once weekly 

Adverse Reactions

Most common adverse reactions were itching, chills, redness, rash, cough, and runny nose. 

Prescribing Information

Prescribing Information
Whether you're considering treatment with VYJUVEK™, ready to start, or looking for more information, Krystal Connect brought to you by Krystal Biotech is here to help you.
When you contact and enroll in Krystal Connect, you will be connected to a dedicated team. Your team is available to:
Provide education about VYJUVEK and DEB
Help you understand your insurance coverage through benefits investigation
Inform you about financial assistance programs for eligible patients
Support treatment planning and administration
Provide information to help you locate a treating doctor in your area
Get Started with Krystal Connect at VYJUVEK.com
Or call 1-844-5-KRYSTAL