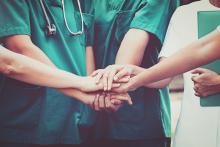 debra also announces a new partnership with public relations and creative agency Fearey to raise awareness for Epidermolysis Bullosa and all those who are affected 
NEW YORK, Oct. 4, 2023 /PRNewswire/ -- debra of America, the leading patient advocacy organization dedicated to improving the quality of life for those living with Epidermolysis Bullosa (EB), is thrilled to announce a partnership with LunaDNA to launch a new patient-centered disease registry. debra's registry will be a valuable tool for patients, academic researchers, clinicians, and our drug development partners as they continue to develop treatments for "the worst disease you've never heard of."  
debra's registry will allow individuals with EB to safely aggregate their electronic health records (EHR) in a secure, data-protected platform from the multitude of medical institutions and private doctor offices they have visited to care for their symptoms. "We've been to six major medical institutions across four states over the course of our daughter's life in order to treat her EB effectively," said Brett Kopelan, executive director at debra. "We can now allow a treating physician access to all of her health records, which will enable a complete understanding of the progression of her disease, resulting in the best-tailored care for her."  
Furthermore, the debra registry is a platform where patients can upload their genomic data, and academic researchers can correlate that data to the EHRs (Electronic Health Records), allowing for genotype-phenotype correlations to gain a more thorough understanding of the disease. "The culmination of this data collection will allow us to identify biomarkers and surrogate endpoints for drug development instead of the FDA (Food and Drug Administration) relying solely on full wound closure to determine if a therapeutic agent is effective," said Kopelan. "These new data points will allow our drug development partners to take advantage of the accelerated approval pathway in the FDA, thereby getting drugs to treat EB to market faster than before."  
"Patient registries are an essential tool in understanding rare disorders. They allow patients to be counted, even if they are not being seen regularly in a specialized center. In addition, they can provide data about the natural history of a disorder and allow researchers to identify targets for therapeutic development.  debra's new registry is patient-centric and protects private health information. Patients own and control their health data. By allowing the use of their health data, individuals with EB can contribute to developing real-world evidence about the natural history of EB, the impact of current treatments, and their unmet health needs, which will help future drug development," said Dr. Anna Bruckner Co-Director of the EB Clinic at Children's Hospital of Colorado and professor of dermatology, University of Colorado Medical School.
Epidermolysis Bullosa is a rare genetic disorder characterized by fragile skin that easily blisters or forms painful sores from minor friction or trauma. It affects people equally across genders, ethnicities, race and all age groups and has significant physical and emotional impacts on both patients and their families. "We are honored to work with LunaDNA to launch this EB-specific registry. Allowing the EB community to aggregate their electronic health records in a data-protected environment is an integral facet of our commitment to enhancing the lives of those living with EB," said Heather Fullmer, director of community engagement at debra. "By harnessing technology and openly collaborating with all stakeholders within our community, we can drive forward crucial advancements in research and influence the regulatory environment while providing invaluable support resources to the community." 
Furthermore, Dr. Peter Marinkovich, associate professor of Dermatology at Stanford University and Director of the Stanford Bullous Disease Clinic, added, "Thirty years ago, the US Congress (through the lobbying efforts of debra of America) created the National EB Registry (NEBR) which extended EB research to a national scale. In the interval between when the NEBR ended in 2000 and now, a lot has changed. We have entered the computer age, and our technology has grown. Using these advances in technology, a new platform, LunaDNA, which is being adopted by debra, provides the opportunity to take this work started by the NEBR much further with the potential of reaching many more patients and providing much more information. I especially appreciate how transparent and accessible this platform is to patients, doctors, and researchers alike while at the same time protecting patient identities and health information. At this critical time of expanding EB research, we need a tool like Luna to provide a foundation of support in bringing new discoveries and therapies to EB patients."
debra remains dedicated to its mission of improving the quality of life for individuals living with EB. The organization continues to advocate for increased awareness, support research initiatives, and provide vital resources to those affected by this challenging condition. 
debra forms a strategic partnership with Fearey to advance awareness and support for EB 
debra is excited to announce a strategic partnership with Fearey, a public relations and creative agency and a PRNews finalist for PR Agency of the Year in 2023. This collaboration is significant in advancing awareness, support and research initiatives for this rare genetic disorder. Together with debra, this partnership aims to harness Fearey's expertise in communication strategies and execution, enhancing media efforts to amplify debra's mission and awareness of EB. 
Fearey brings their professional expertise and personal dedication to the partnership. Aaron Blank, CEO and President of Fearey shared his personal connection: "Having a son diagnosed with Epidermolysis Bullosa, my team and I are honored to raise awareness about the life-changing work that debra does. We have a profound understanding and commitment to the mission behind this partnership and look forward to helping broaden the awareness of this awful disease and those who suffer from it." 
"We are excited about our strategic partnership with Fearey as we continue our mission of improving the quality of life for individuals living with EB," said Kopelan. "Fearey's deep understanding of our cause combined with their commitment will undoubtedly propel our organization forward."