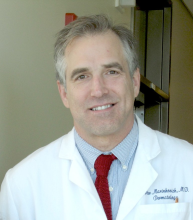 On Saturday, November 4, 2023, Dr.  M. Peter Marinkovich of Stanford University will be honored as the inaugural recipient of the Jouni Uitto Impact Award at the debra of America Annual Benefit at the stunning Georgia Aquarium in Atlanta, GA. Grab your tickets here! 
Dr. Marinkovich is Director of the Blistering Disease Clinic at Stanford Health Care and Associate Professor of Dermatology at the Stanford University School of Medicine. He was also a primary investigator for Krystal Biotech's GEM-3 Trial for the U.S. FDA-approved VYJUVEK™ for Dystrophic Epidermolysis Bullosa. Dr. Marinkovich's contributions have made an indelible mark in the EB world. 
"I am grateful to debra and the EB Community for your support and recognition," shares Dr. Marinkovich. "It really means a lot to me to know that I am making a difference in EB patients' lives." 
"The EB Community really owes a debt of gratitude to Dr. Marinkovich," said Brett Kopelan, Executive Director of debra of America. "In addition to being a phenomenal clinician, he has pioneered gene therapy approaches to treat EB at the molecular level. Without his work, we wouldn't have realized the first FDA approved treatment. There is no one more deserving of the inaugural Jouni Uitto Impact Award." 
debra extends its heartfelt gratitude to Dr. Marinkovich for his exceptional contributions to EB research. We look forward to celebrating this visionary and our other change-makers on November 4th!   
Tickets to the Annual Benefit are on sale now! Join us for an incredible casino night, complete with your favorite games, cocktails and hors d'oeuvres, an exciting silent auction, and a seated dinner with a view of the aquarium's sea life. Don't miss your chance to be a part of this extraordinary event —discover more and RSVP to the debra of America Annual Benefit.
About Dr. M. Peter Marinkovich 
(As told in Dr. Marinkovich's own words) 
I completed my research fellowship in the Portland Shriners Hospital, in the lab of Dr. Robert Burgeson, who had just discovered collagen VII, the protein affected in dystrophic epidermolysis bullosa. During my time with him, we discovered laminin-332 (originally called kalinin) and together with a group in Nice France, showed it was the protein defective in most cases of junctional epidermolysis bullosa.  
Later, when the collagen VII and laminin-332 genes were cloned, genetic studies confirmed that genetic mutations in laminin-332 and collagen VII genes were the molecular basis of most cases of junctional EB and all cases of dystrophic EB. After Dr. Burgeson left to become head of the Cutaneous Biology Research Center, Dr. Lynn Sakai of the Portland Shriners Hospital became an important additional mentor to me and has remained so to this day.  
After my fellowship and Dermatology Residency in Portland, I joined the faculty at Stanford University Department of Dermatology and together with Drs. Eugene Bauer and Paul Khavari, spent a number of years further characterizing the defects in junctional and dystrophic epidermolysis bullosa and developing novel methods of gene therapy to treat these diseases. These efforts finally led to the completion of the first successful clinical trial of ex vivo gene therapy to replace collagen VII in dystrophic EB, published in JAMA in 2016.   
More recently, my group has been working both at the preclinical and clinical levels on delivery of collagen VII expressing fibroblasts to DEB skin as well as in the development of a more accessible topical form of in vivo gene therapy to replace collagen VII in dystrophic EB. The topical gene therapy work has led to the successful completion of a phase 1-2 trial published in March 2022 in Nature Medicine. The phase 3 trial of this topical gene therapy was completed in late 2021 and published in the New England Journal of Medicine in December 2022. The drug was FDA approved and available to dystrophic EB patients in May 2023. It is the first topical gene therapy, the first redosable in vivo gene therapy, the first gene therapy for a primary skin disease, and most importantly the first FDA approved gene therapy for epidermolysis bullosa. I am particularly excited about this topical form of gene therapy as it is an off-the-shelf product that can be shipped anywhere in the world and applied under very basic clinical conditions, even in underdeveloped countries.  
In addition to my research, I've been fortunate to work in the clinics with epidermolysis bullosa patients and their families for many years and feel especially fortunate to finally have corrective treatments to give back to them after all these years to help them lead better, less painful and less debilitating lives. 
Currently I am working to develop other forms of molecular therapy for junctional and dystrophic EB patients, and to work with other investigators to help bring gene therapy to EB patients in other countries.