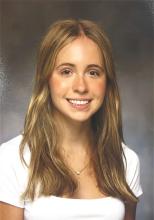 On Saturday, November 4, 2023, Analise Cardullo will be honored with the Spirit Award at the debra of America Annual Benefit at Georgia Aquarium in Atlanta, GA. Get your tickets here! 
The debra of America Spirit Award recipient is a person with Epidermolysis Bullosa (EB) in the United States who possesses great courage and strength in the face of EB. Recipients rise above the daily struggle of living with this rare disease to serve as an example to others in their community and the world at large in understanding EB. 
Get to know Analise through her own words below. 
Hello! My name is Analise Cardullo. I am 15 years old. When I was born, I was diagnosed with Junctional Non-Herlitz Epidermolysis Bullosa. However, it has not defined me. I enjoy a variety of different activities and hobbies! They include swimming for my varsity high school swim team, being a part of my high school choir and many different exclusive singing groups, working a job at a local farm in my town, and hanging out with my amazing and supportive family and friends. 
Having EB has provided me with a different outlook on life, compared to other kids my age. It has caused me to be more aware of my surroundings, pay more attention to my personal boundaries, and think about certain situations more carefully. EB is not something that a lot of people, especially kids my age, would be able to handle both mentally and physically. We are all incredibly strong. I thank debra for taking the initiative to help people in the EB community be heard, be seen, and be appreciated, knowing that one day we WILL find a cure. 
Tickets to the Annual Benefit are on sale now! Join us to celebrate Analise and our other amazing honorees. The special evening will be casino-themed, complete with your favorite games, cocktails and hors d'oeuvres, an exciting silent auction, and a seated dinner with a view of the aquarium's sea life. Don't miss your chance to be a part of this extraordinary event —discover more and RSVP to the debra of America Annual Benefit.