One way to engage your elected and public officials while also raising public awareness around Epidermolysis Bullosa is to obtain an Epidermolysis Bullosa Awareness Week Proclamation in your city or state.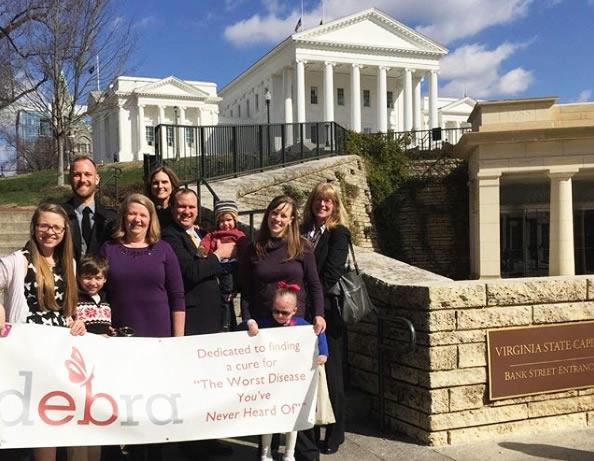 What is a Mayoral/Governor Proclamation?
Proclamations are official declarations issued by a person of authority to make certain announcements known. Proclamations are issued by mayors and governors for historical, cultural and civic celebrations or events, and may also recognize a special day, week or month. Therefore, mayors and governors have the power to proclaim October 25-31 Epidermolysis Bullosa Awareness Week within their jurisdictions. Proclamations may be read at a council meeting, or at a community event, depending on the schedule of the official. 
Why request a Mayoral/Governor Proclamation in your City/State? 
Proclamations are the official recognition that the Mayor's/Governor's office cares about residents with Epidermolysis Bullosa, and signals to all the residents that this is an issue that matters and that the Mayor/Governor recognizes the serious nature of the condition. A proclamation can lead to attention in the press and may influence consideration when it comes to policy making with regards to Epidermolysis Bullosa. 
EB Awareness Week is already federally recognized, first legislated by Ronald Reagan and the United States Congress in 1984. 
How do I get started on obtaining a Proclamation in my area? 
While each state and city may have a unique process to obtaining a proclamation, it can usually be accomplished through a few simple steps.  Utilize the tips below to get an official proclamation for EB Awareness Week in your area! 
Steps to Getting a Proclamation
Step 1: Prepare
Determine if you want to work at a state or local level. 
Start well before October - it could take months to get a proclamation issued depending on the size of your city or state. 
Investigate the process to request a proclamation in your area - many government websites have a proclamation request form that you can submit electronically or instructions on how to submit. You can start your search by entering "request a proclamation in (your city or state)" in an internet search engine. You can also call your mayor or governor's office and ask to be connected to a person who can explain how to submit a proclamation request. 
Step 2: Apply
Complete any application forms that are part of the application process and submit them along with the following proclamation draft. View a Proclamation Draft 
Personalize the application to include information relevant to your state or community. You may also want to include the personal impact Epidermolysis Bullosa has had on you and your family, or a relevant, local story about EB where appropriate. 
Make sure to request to have the signing of the proclamation put onto the official agenda. 
Step 3: Publicize 
When your Mayor or Governor grants your request, find out the pertinent details of when the proclamation will be signed, and invite others in the EB Community to attend the signing. 
At the signing, get a photograph of you (or loved ones, other attendees) holding the proclamation with the official. 
Submit the photograph to your local newspaper and media explaining EB Awareness Week and your connection to the cause. 
Post photos and story on social media and celebrate your accomplishment! Be sure to tag debra of America (Find us on social media).
We'd love to hear from you! Email programs@debra.org if you are taking these steps to get an EB Awareness Week Proclamation signed in your city or state.
Community Member Spotlight
debra Impact Network Member, Michelle Brewer, works for the Executive and Legal Department of Lenexa, KS and shares her expertise on how a proclamation is signed in her city: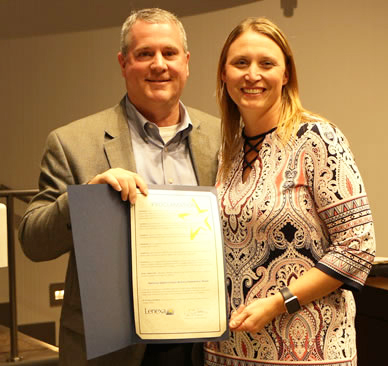 Why is a proclamation important? A Proclamation helps to get information out and make people aware of important matters.
 
What are the steps to requesting a proclamation where you live? In Lenexa this is done in the City Clerks Department. You fill out a Recognition Request Form online.
 
How long did this process take for approval? I would submit about 30 days in advance.

When approved, what can you expect? In Lenexa, someone from the City Clerk's office will follow up and let you know what council meeting date your proclamation will be read and ask if you will be present to accept the proclamation. The Mayor will read and present the proclamation.  He takes a picture and asks you to say a few words.

Any special tips? I recommend following up 1-2 weeks after you submit your proclamation just to make sure they got it.