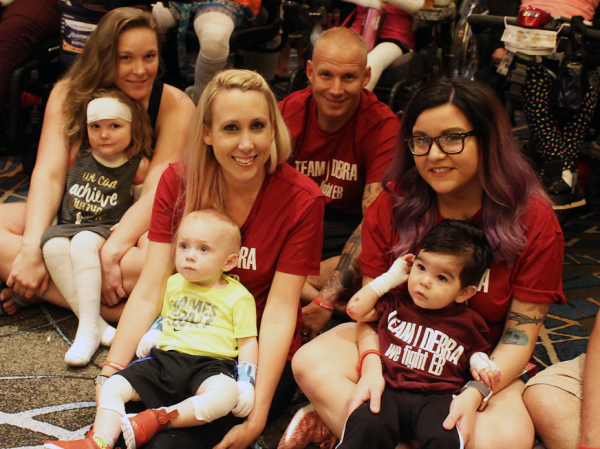 The Caregiver Support Program matches experienced mentor parents and caregivers with newer families who are starting out on their journey of caring for a child (ages 0-3) with EB, or who have a child with EB pre-school age or older and could use some extra support. 
Our volunteer mentors are a source of support, encouragement, and a reliable shoulder to lean on, drawing on their own experiences to provide a special connection for those in the process of becoming accustomed to a new way of life.
A parent, grandparent, or primary caregiver of an infant or child with EB who requests caregiver support will be matched to an experienced volunteer mentor based on the child's age and individual family needs. The pair will connect virtually, or through phone and email over the course of at least 12 weeks via the method of communication the mentee prefers. 
A family requesting caregiver support may do so at any time. Topic areas that may be addressed during the mentorship include but are not limited to: 
Coping and accepting 
Navigating life transitions (hospital to home; daycare to school) 
How to talk to care teams 
Parenting a child who has EB 
Coordinating family life with EB wound care management 
Managing family members, friends, community, strangers 
Taking advantage of supportive resources 
Our volunteer mentors have first-hand experience raising a child with EB and provide peer support and information on navigating the journey that is involved with Epidermolysis Bullosa.
Applications for experienced caregivers who are interested in becoming a mentor are accepted on a rolling basis.
The process to become a volunteer mentor includes the successful completion of our online application, a phone interview and completion of virtual training materials. Mentors are connected to new families on an on-going basis and are matched based on location, experiences, personalities and mentee preferences.
Potential mentors must be willing to be "on call" for service as a need with a new family arises. Mentors can expect to put in approximately two to five hours a month for at least 3 months communicating with their mentee(s), managing encounters and reporting to debra of America. 
The ideal mentor will be: 
Parent, grandparent or primary caretaker of a person with EB who is at least 3 years old. 
Commitment of at least 1 year to be on call for service 
A good listener and have the ability to offer support, hope and encouragement while assisting the parent (mentee) in identifying their own coping style, self-care and communication strategies 
Ability to appropriately share your own experiences and help identify solutions that are aligned with the mentee's needs and wants. See potential topic areas in the "How It Works" section above. 
Mentors will NOT provide therapeutic counseling, medical advice or tangible resources. Follows professional boundaries policy in establishing relationship with mentee. 
All individuals paired in the Caregiver Support Program are professionally supported by our staff during the course of the mentorship. While this is a one-to-one mentorship opportunity, contact is made regularly to the mentor and mentee to evaluate the match and facilitate a healthy, productive friendship. Virtual group meet-ups will also be hosted for all mentees and mentors to attend.   
All accepted mentors are trained in best practices and must participate in mentor group discussions.   

Questions? Reach out to programs@debra.org.