In Loving Memory (1976-2018)
Every morning I wake up to my phone alarm, walk straight to my "dressing room," which is supposed to be our guest bedroom, get my bandages ready, and get in the tub. As I very carefully use the washcloth to go around my sores, I take a moment to close my eyes, sigh a big sigh, and say "God in heaven, thank you for all the blessings you've given me. Thank you for all the people around me. Please allow me to have a good day. Please let me make it without pain, and if I have pain let me make it through. In your name I pray, Amen." When I'm done, I go back to my room and begin to do bandages literally from head to toe. I get dressed, and go to work. This has been the ritual for the past 3 years. In the past year there's been a variation to this ritual. Sometime in the middle of my bandaging my new husband and our baby bulldog come stumbling half asleep down the hall to greet me good morning. Jeff kisses me good morning, and quietly gets some bandages from the bin and opens them for me. He then grabs whatever clothes I've selected for the day to iron them, then goes to the kitchen to make my coffee just the way I like it. By the time I get in the car at 8:30am and back out the driveway, I've been awake for approximately 3 ½ hours with not a minute to spare to make it to work. I would be a terrible liar if I said I'm glad I have EB. However, it wouldn't be totally true if I said EB didn't impact the person I am or the life that I have now, either.
My name is Monique Elena Mori McKissick, married to a wonderful husband, own my own home, work full time at a utilities company and I have Recessive Dystrophic Epidermolysis Bullosa. My husband, Jeff, and I have been best friends for 16 years now. Our only child is a 6 month old English Bulldog who's more spoiled than any actual child would ever be. Aside from my parents and my husband, EB is greatly responsible for shaping the person I've become today. Not to say that I'm any kind of wealthy over-achiever by any means at all. However, at this state in my life I like who I am, I'm proud of who I've become, I'm happier than I've ever been, and I feel truly blessed every single day for the life I'm living.
I was born in the Moncrief Army Hospital. When the doctor turned me over to spank my tush my ski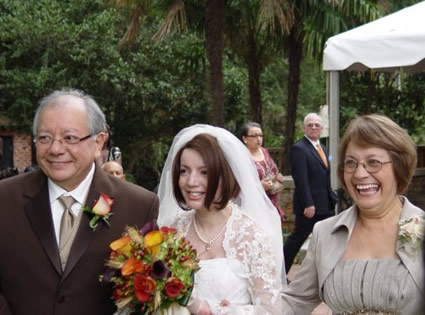 n on my right leg slipped right off like a glove in the doctor's hand. After being in an incubator for the first 2 months of my life the doctors came up with a diagnosis. EB they said. They gave me 2 years, and since they had a diagnosis, and they had "healed" me the best they thought they could at the time let me go home for a visit. My parents could take me home for a week. During my one week visit my mom did the only thing a new mother would do with her new baby … love me like no one else knew how. By time the week was over and she brought me back to the hospital the doctors didn't see a baby with EB. They saw a baby girl in a bonnet, being held by her mom. It was at that time that the doctors realized that I could not be in better hands than my mama's and told her there was no need for me to return to the hospital.
Most of my childhood memories were wonderful. Despite the daily struggles of EB my parents made sure my younger brother, Dennis (who has RDEB), and I were given everything we needed, and mostly everything we wanted. We had friends, birthday parties, sleepovers, and family days. For a time we also lived in Peru, which is an awesome experience I will never forget. There was always music and laughter in the house, and to this day not one day goes by that I don't find the opportunity to dance.
My mom started a home day care when I turned 10 so she would be available at home whenever we needed her. We were pushed hard and encouraged not to let EB be a crutch to preventing us from doing anything we wanted to do. Even though there were many days we missed school due to illness there were many more days we made it to school in pain or just plain uncomfortable. And even though those days, quite frankly, sucked, I would be so glad I'd made it another day. After graduating high school, I hopped from college to tech school, back to college where I started, I finally finished school in a mere 7 ½ years with an Associates in Business and a Bachelors in English Lit.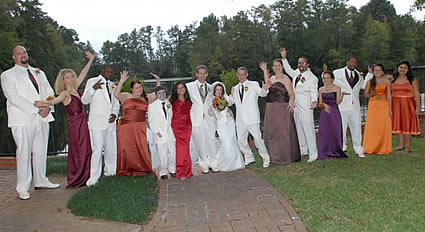 By this time my mom had opened her own Child Development Center away from home. I started working with her part time, and somehow fell into another part time job at a conflict resolution non-profit doing desk work at first, and was shortly after trained and certified in community and family court mediation. When the organization closed, I started working with my mom full time as assistant director at the CDC. I was there all together for about 6 years. My mom and I became closer than ever. My mom and I developed a bond that is rare. I know that moms are expected to be there for their children no matter what, but my mom went above and beyond every single day of my life. That is something I will never take for granted. My mom is the most amazing woman I've ever known, or will ever know.
I finally had to break the news to my mom it was time for me to move on. I landed a job at very large utilities company as a bilingual customer relations specialist. Almost 3 years later I'm still in awe at how fortunate I was to have landed this job. No matter how bad I feel in the morning I'm happy to go to work. I love the people I work with, and love the job I do. I help an average of 70 customers per day all by phone. The customers are not distracted by the way I type on the keyboard which by the way everyone is impressed at how fast I type with no fingers and half thumbs. I have made such good and genuine friends. And I truly love what I do. The day I got this job was the third happiest day of my life.
---
From the time I was a child to present day, I have been through numerous surgeries, medical procedures, and have been a guinea pig a good number of times for EB research. As a child my mom and dad saw me through my most painful surgeries, the separating of my fingers. I went through it all together 5 times. After a while I decided it wasn't worth it. The pain was excruciating, and when it was over it took me months to retrain my hands to write or do crafts that I love doing. By the time I got full function of my hands back, my fingers were already fusing together again. Then there were the esophageal dilatations that occur every other year, and the newest ones are blood transfusions and iron infusions. Two of them under my belt with the most recent in March. As I got older, I volunteered for some studies for EB research which had me traveling back and forth to Chapel Hill a couple of times, and once even Nashville, TN for a few months at a time. During t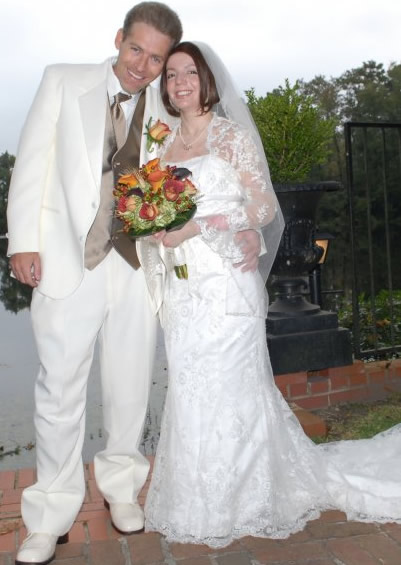 hese excursions, Jeff was there faithfully. Whether it was driving back and forth 5 hours every month, or flying back and forth every other week Jeff was by my side.
Today, Jeff sees me at my best moments, and absolute worst moments. His care and patience with me amazes me. At night he has my pain pills ready for me. He always keeps up with what I can eat. Whenever we go anywhere he's always mindful of how much walking I'd have to do. In the past 6 years the sores on my head have gotten out of control and have resorted to just shaving my head completely. Every night he helps me put on my bandana for bed, and every morning he brushes the wig he has picked out for me.
Jeff and I got married on October 11 th, 2009. It was exactly one month after I bought my first home, the second happiest day of my life. It was a gorgeous outdoor wedding with 7 bridesmaids and 7 groomsmen and a little over 100 guests. Music is so important to me that I didn't use any of the traditional wedding music you usually hear. From the wedding party walking down the aisle, to the grand introduction as husband and wife at the reception, each song was carefully picked and had very special meaning. For a guy, I'd never Jeff so happy either. That was the happiest day of my life.
The other night I got in my bed, frustrated about having to wear a certain type of shirt to bed so it would hold my bandages in place. On top of that Jeff made me mad over something stupid. I got off the phone with my mom and put my phone under my pillow. I put my head down and suddenly a realization came over me that melted all my frustrations away. My bed felt so comfortable under me, my puppy lay snoring loudly at the foot of my bed, and my husband was setting the alarm for the night. How blessed I am that at 33 years old despite all my obstacles that I have a home of my own, a family of my own, and love all around me. I have never been happier than I am right now. And I plan to continue living every minute of my life to the fullest without taking for granted that not everyone is as fortunate as I have been. Epidermolysis Bullosa and all.