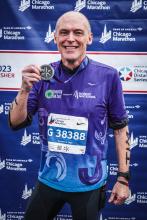 On October 8, 2023, ten dedicated TEAM DEBRA runners conquered the grueling 26.2-mile course at the iconic Bank of America Chicago Marathon!
In the many months leading up to race day, our team trained hard, while raising an amazing $15K and counting, in support of those living with Epidermolysis Bullosa (EB). We couldn't be more grateful for the incredible efforts of Ana Alicia, Andrea, Christopher, Don, Gregory, Kristy, Lucy, Pamela, Pirko, and Tim —THANK YOU!  
"One little girl diagnosed with EB at birth and lost her battle six short weeks later led me on this path of advocacy back in 2010. Until there is a cure, there is work to be done. ❤️🦋" - Andrea Ness 

"I vividly remember the day I added running a half marathon to my bucket list. I truly never thought it would be possible as I have EB Simplex. Thanks to a wonderful treatment plan, doctors, and research from debra, I have managed my EB Simplex and completed 5 half marathons. I knew I wanted my first full marathon to be with TEAM DEBRA. I am honored to raise awareness for 'the worst disease you have never heard of' and raise funding for an organization that gave me the ability to run literally and figuratively through its research and education initiatives." - Lucy Campbell 

"I have a mild form of DDEB and while I can't play contact sports, I can run without hurting my skin. I ran for the children whose form of EB is much more severe for whom a marathon may never be possible.  I'm 54 years old and I had never run more than 3 miles in my life. My training began in Costa Rica where I was living at the time. I found an amazing group of marathoners that took me from a complete newbie to a serious runner... Each week, the long runs went from 15 miles to 18 to 20. With each came new aches and pains in muscles I didn't know I had. It all came together this last weekend on a perfect Sunday for running in Chicago... I was able to finish my 26.2 miles in under 4 hours. The last few miles were hard, but the crowd and the experience were amazing. And the feeling of crossing the finish line is priceless. But that's just the part the world sees. What really defined the experience for me was the friends and growth I made over the 820 miles and 9 months of training that it took to go from zero to marathoner. I only hope my contribution to debra makes some difference in the lives of those with EB.  I know the experience has changed my life in more positives ways than I can count." - Tim Sutton 
2024 Chicago Marathon – Join our team!  
Feeling inspired to follow in the footsteps of our amazing runners? Join us in next year's Bank of America Chicago Marathon on Sunday, October 13, 2024! 
We have a limited number of spots and the deadline to sign up is rapidly approaching on November 16, 2023! Don't miss your chance to be a part of an incredible journey and to make a meaningful impact on the lives of those affected by EB. 
Learn more and secure your spot in the 2024 Chicago Marathon
For questions, please email teamdebra@debra.org or call 212-868-1573 x102.