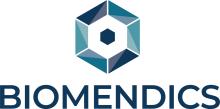 BioMendics is set to be honored with the Partners in Progress Award at the debra of America Annual Benefit on Saturday, November 4, 2023 at Georgia Aquarium in Atlanta, GA. There's still time to get your tickets!
BioMendics was founded by a passionate group of professionals and investors looking to make an impact on people's lives. BioMendics is currently developing its MTORX Technology, which is formulated as a topical gel to target and remove the mutated and damaged keratins in the skin of EB Simplex patients.  
They will be starting their TAMES Phase 2 clinical trial next spring, which will include both children and adults with EBS. Over the past 3 years, the BioMendics team has had the opportunity to connect with many members of the EB Community.  
"We instantly saw the passion and commitment of the physicians, nurses, caregivers, and patient advocates to improve the lives of EB patients and families. When asked questions, you have gifted us with your stories describing moments of pain, frustration, and depression that were often overcome with strong, loving relationships and a lot of laughter," the BioMendics team shares. "We frequently heard from EBS patients that because their pain and struggles are not as severe, or often hidden from view, they are less important. We want EBS patients to know this is simply not true, and your continued engagement is critical in developing new therapies. With the approval of the first biologic for DEB, we at BioMendics see nothing but a positive future for research and development in EB, and we are honored and delighted to be a part of it."   
debra of America is proud to partner with this innovative company to improve the quality of life of those impacted by EB.  
Tickets to the Annual Benefit are on sale now! Join us for an incredible casino night, complete with your favorite games, cocktails and hors d'oeuvres, an exciting silent auction, and a seated dinner with a view of the aquarium's sea life. Don't miss your chance to be a part of this extraordinary event —discover more and RSVP to the debra of America Annual Benefit.