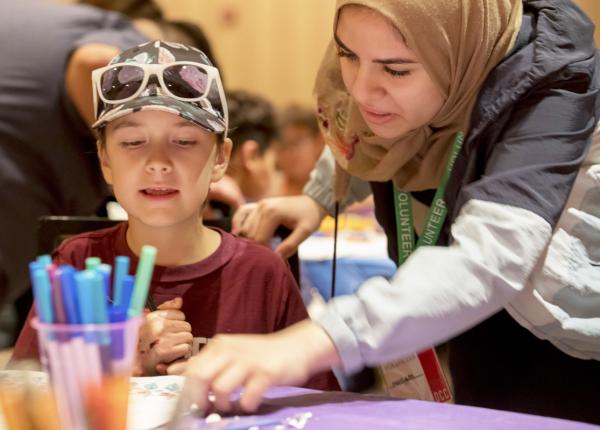 Thank you for your interest in volunteering at the 2022 debra Care Conference! Volunteers are an integral part of making our conferences an incredible experience for all attendees and speakers.
Read below for a summary of our areas of need, and the responsibilities that each role may entail. We are looking for volunteers for each day of our conference: 
Sunday, July 17
Monday, July 18
Tuesday, July 19
Wednesday, July 20

Full time shifts are available as well as morning and afternoon shifts. Previous experience in supporting a conference is preferred, but not required. You must be at least 18 years old to volunteer or provide additional parental consent. Lunch may be provided for full-day volunteers; no compensation or travel/hotel aid available.
Registration/Information Desk: These volunteers assist with attendee check-in, answering questions and providing information on the agenda and room locations.
 
Session Room Monitors: These volunteers help with the conference sessions. They distribute and collect surveys, take headcounts, help people find seating and open and close entry doors.
 
Kids Room Security/Monitors: Volunteers are needed to keep designated kids' play areas secure, monitoring entrance and exit points. Others will help parents sign their children in and out and provide kids with name tags.
 
Kids Room Mentors: These volunteers help oversee the activity tables and designated play areas for kids. They engage children in games and facilitate fun activities.
 
The debra Shop: These volunteers assist with set-up and sales of EB awareness merchandise.
 
Hospitality: These volunteers are our greeters, and may be responsible for helping to guide people as they enter/exit lunchroom or elevators.
 
Talent: Volunteer entertainers are needed for the kids rooms + family friendly social activities.
 
Setup/Assembly: On Sunday, July 19, volunteers are needed to assist with unloading and unpacking supplies, and other preparations such as putting together name badges, table tent cards and folders. Physical activity, such as bending, stooping and lifting up to 20 pounds, may be required. 
Please read the Waiver and Release information below for our online volunteer application. Once your registration form has been received, a debra of America team member will contact you.
WAIVER AND RELEASE

I agree to volunteer fully at my own risk. I understand that debra of America shall not accept liability for any loss, damage, or injury to any property or my own personal being and debra of America is not in any way responsible for any illness, accidents, or events during the volunteer placement which may result in injury, loss, or fatality to me. 

I do not suffer from any alcohol, drug, or self-harming dependency, which might hinder my ability to perform tasks while volunteering. I have not been convicted of a criminal act.

I understand that debra of America does not assume any responsibility or obligation to provide me with financial or other assistance, including but not limited to medical, health, or disability benefits or insurance of any nature.

I respect the confidentiality of the information I gain while volunteering for debra of America. I agree not to publish reports, information, images or photographs without explicit written permission from debra of America.

I grant and convey to debra of America all right, title, and interests in any photographs, images, video, or audio recordings of me or my likeness made by debra of America in connection with my providing volunteer services.

The information provided in my application will be accurate to the best of my knowledge.

By clicking the button below, I, the volunteer, agree to the above terms and conditions.