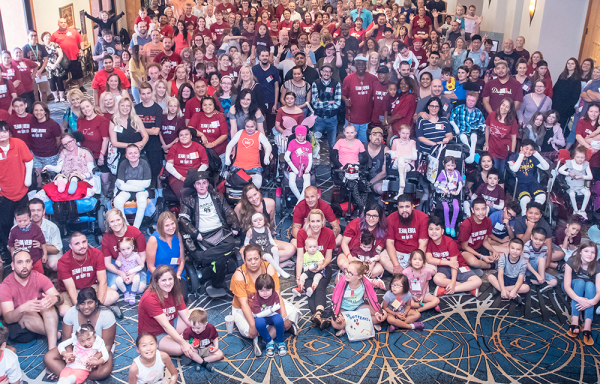 debra of America is bringing together over 600 attendees for the 2022 debra Care Conference (DCC)!
This multi-day event is designed specifically for EB families and the professional community to access the best information, discover new ideas and connect with other EB families from all over the country. It is an extraordinary opportunity for those with EB and their caretakers to make long lasting connections and learn from experts in the field.
JOIN US FOR THE NEXT DEBRA CARE CONFERENCE IN DENVER, COLORADO! 
The conference will run from July 17 through July 20 (with hotel stays until the 21st). 
Registration is Now Open!
Select your registration type to begin:
March 2, 2022 UPDATE: debra of America has been closely monitoring the precautionary and safety mandates for COVID-19. In the last few weeks, the precautions and safety measures for COVID-19 have evolved on national, state, and local levels. With that in mind, and in continued consultation with health and safety experts as well as EB clinical experts, debra of America is following Colorado state and local guidelines and is lifting the vaccination requirements to attend the 2022 debra Care Conference (DCC).
debra of America is committed to providing a safe, productive, and welcoming environment at the DCC and we will continue to monitor recommendations from city and national sources as we get closer to the conference date. We look forward to a great event.
Click here for more information on DCC Event Safety & Responsibility during the pandemic. 
As an attendee, here is what you can expect:
Hotel stay at the Omni Interlocken Hotel, an indoor, temperature-controlled luxury retreat nestled against the backdrop of the Rocky Mountains. Located approximately 28 miles (30 minutes) from The Denver International Airport (DEN)
Entry to all educational sessions including presentations from top medical professionals on a broad range of areas in EB care
Updates from the country's leading EB researchers
Access to wound care companies, supply distributors and patient advocacy partners
Panel sessions and discussions with EB experts and community members
Designated play areas with day-long kids' activities and entertainment
Breakfast, Lunch, Dinner (see FAQ section for more details!) 
Social activities through-out the span of the conference and more!
Thank You To Our Generous Sponsors