From October 25-31, our supporters are encouraged to: 
Copy and paste our suggested social media posts (or develop your own!) and post to your social media pages.
Add our existing hashtags to your post copy for more visibility: #EBAwarenessWeek, #EBWeek, #WeFightEB, #EpidermolysisBullosa
Tag debra of America in your posts so your followers can learn more about EB and our work! 
Download and share our images and graphics 
Follow debra of America on social media and share our EB Awareness Week content on your social media pages. 
Suggested Facebook, Instagram, and LinkedIn Posts
Copy and paste the suggested posts below, or develop your own with similar messaging, and share on your personal social media pages.
It's #EBAwarenessWeek! Please join me in spreading awareness of #EpidermolysisBullosa, a rare connective tissue disorder that causes extremely fragile skin that blisters and tears with any friction. Learn more about EB and take action at debra.org/ebweek #EBweek #WeFightEB  
#EBAwarenessWeek is October 25-31! I support the thousands living with #EpidermolysisBullosa (EB), a painful, often fatal, and always debilitating rare connective tissue disorder that affects an estimated 1 out of every 20,000 births in the United States. Learn more about EB and take action at debra.org/ebweek #EBweek #WeFightEB  
Approximately 200 children are born with #EpidermolysisBullosa every year in the United States. Join me for #EBAwarenessWeek (Oct 25-31) as I spread awareness of this debilitating rare connective tissue disorder. Learn more and take action at debra.org/ebweek #EBweek #WeFightEB  
#EpidermolysisBullosa is a painful and debilitating rare connective tissue disorder. Individuals are born with EB because of a mistake in one of the genes that makes the skin protein. Please join me in spreading awareness in honor of #EBAwarenessWeek (October 25-31). Learn more and take action at debra.org/ebweek #EBweek #WeFightEB  
It's #EBAwarenessWeek! Please join me in spreading awareness of #EpidermolysisBullosa, a rare connective tissue disorder that causes extremely fragile skin that blisters and tears with any friction. Learn more about EB and take action at debra.org/ebweek #EBweek #WeFightEB
#EBAwarenessWeek is Oct 25-31! I support the thousands living with #EpidermolysisBullosa (EB), a painful, often fatal, and always debilitating rare connective tissue disorder that affects an estimated 1 out of every 20,000 births in the US. Learn more at debra.org/ebweek  
~200 children are born with #EpidermolysisBullosa every year in the United States. Join me for #EBAwarenessWeek (Oct 25-31) as I spread awareness of this debilitating rare connective tissue disorder. Learn more and take action at debra.org/ebweek #EBweek #WeFightEB  
#EpidermolysisBullosa is a painful & debilitating rare connective tissue disorder caused by a mistake in one of the genes that makes the skin protein. Join me in spreading awareness in honor of #EBAwarenessWeek (Oct 25-31). Learn more at debra.org/ebweek #EBweek #WeFightEB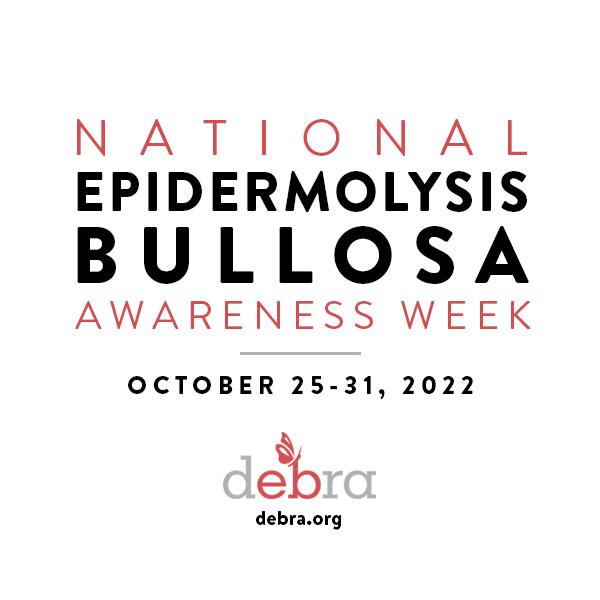 Click to open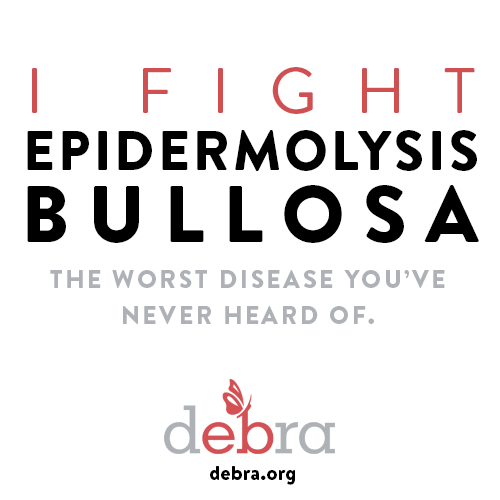 Click to open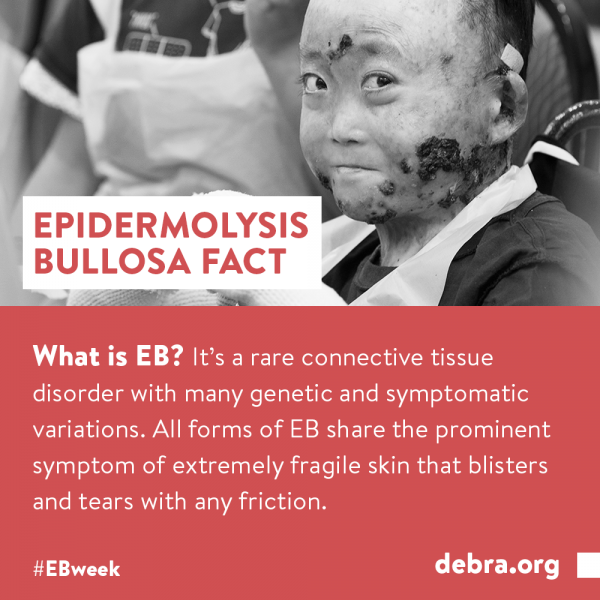 Click to open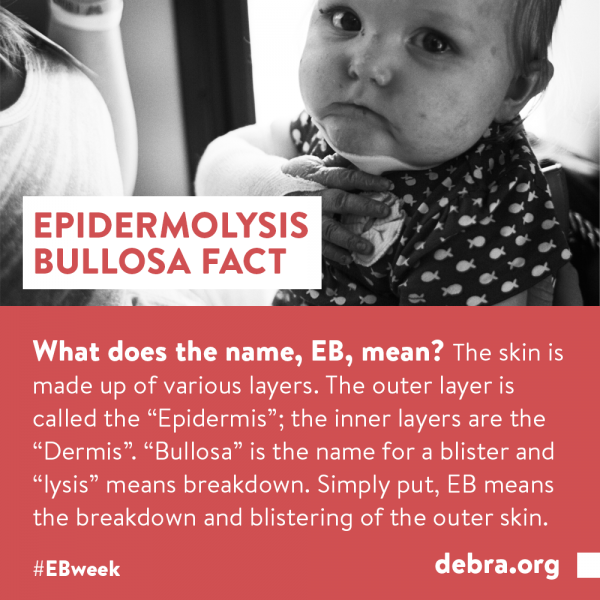 Click to open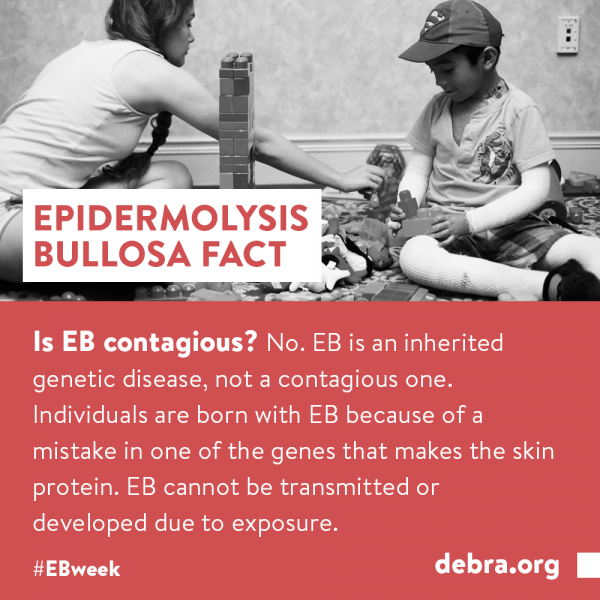 Click to open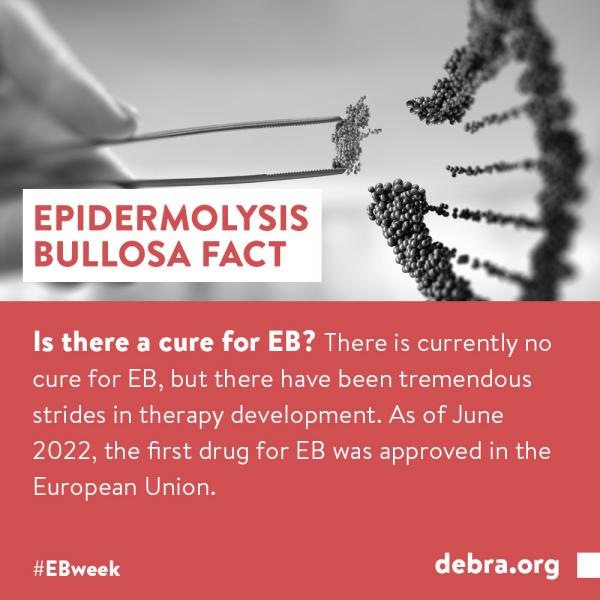 Click to open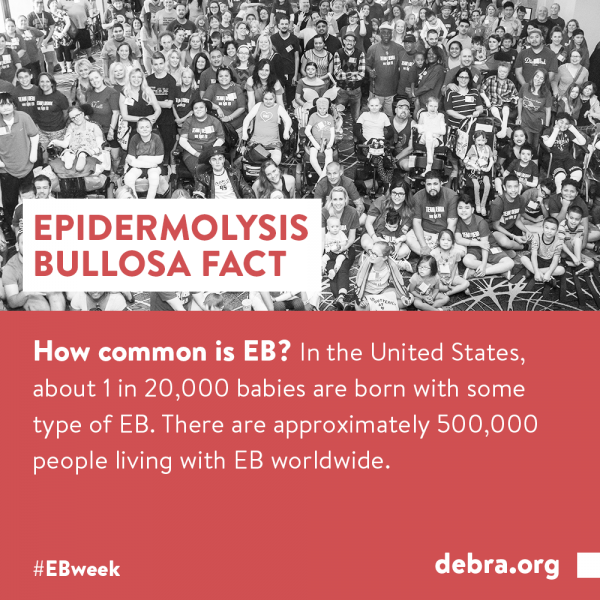 Click to open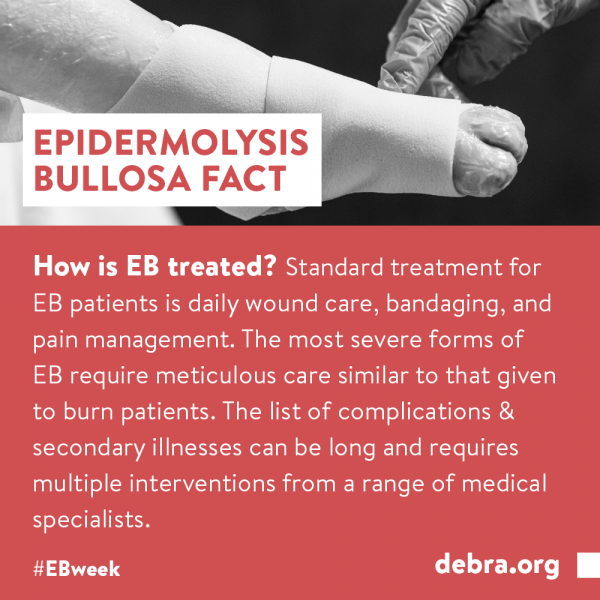 Click to open
Click to open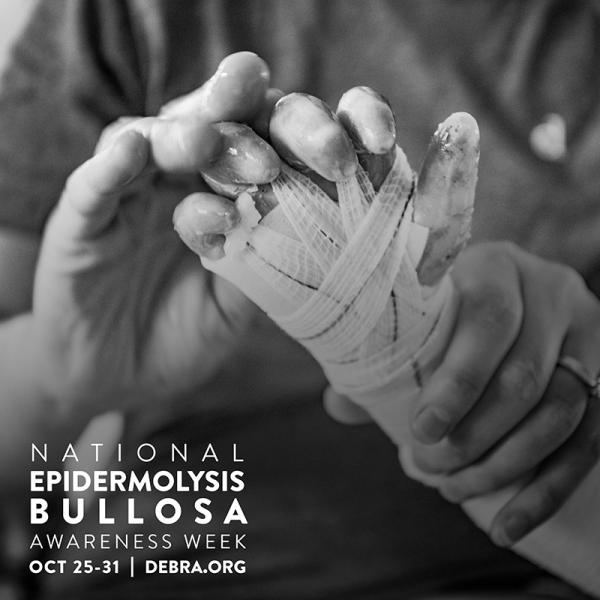 Click to open